National Donate Life Month
April 2018
Each April is National Donate Life Month, a time set aside to inspire people to register as organ, eye and tissue donors and to celebrate those that have saved lives through the gift of donation. Click here to learn how you can make a difference!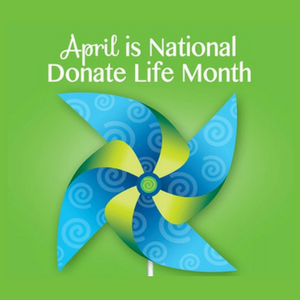 National Blue & Green Day
April 13, 2018
Blue & Green Day is a national "spirit day" in which hospitals, DMV field offices, businesses and the general public dress in blue and green in support of organ donation. Some even decorate their offices or bake blue and green treats. Participate with us on April 13, 2018, and share your photos on our Facebook page! For more ways to spread awareness visit our Blue & Green Day webpage.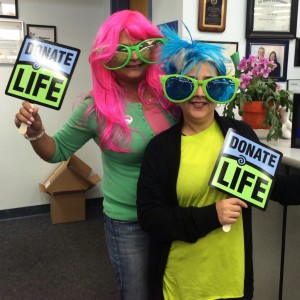 Donate Life Run/Walk - SoCal
April 28, 2018
The annual Donate Life Run/Walk is a 5K Run/1K Walk takes place on Saturday, April 28, 2018 at Cal State Fullerton. The family-friendly event includes music, food and games. This year, join organ transplant recipients in an attempt to break the Guinness World Record. Register here.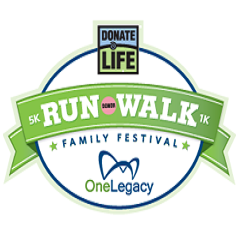 Live On, Drive On! Car Show
May 2018
The Sidney Scott Santana Live On, Drive On! Memorial Car Show takes place each May in honor of Scott Santana who passed away in 2011 and became a hero to more than 50 through the gift of organ and tissue donation. The car show takes place at Lakehills Church in El Dorado Hills, California. Learn more.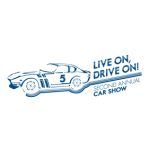 ECHO (Every Community Has Opportunity) Campaign
July 8-21, 2018
Donate Life ECHO, which stands for Every Community Has Opportunity, and was celebrated July 8-21, 2018 is a nationwide observance designed to reach multicultural communities. Through the ECHO concept of reiteration and repetition – with people sharing, or ECHOing, the life-affirming message of donation – more lives will be saved and healed. Stay tuned for ways you can support this powerful campaign.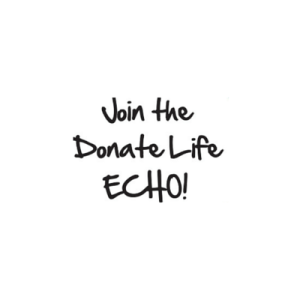 Transplant Games of America
August 2-7, 2018
The Donate Life Transplant Games of America is a multi-sport festival event celebrating organ, corneal and tissue donation. More than 3,000 participants – transplant recipients, living donors and donor families – take part in the event, which takes place every two years. Two teams from California competed in the 2016 Transplant Games – Team NorCal and Team SoCal. The 2018 games will be in Salt Lake City. Learn more.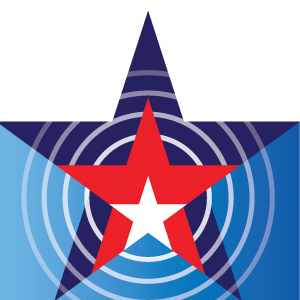 Donate Life Run/Walk - NorCal
September 8, 2018
The annual Donate Life Run/Walk 5K, 10K and Kids Dash took place on September 8, 2018 at Heather Farm in Walnut Creek. All registered participants will receive a commemorative medal. Grab some friends and join the fun! Register here.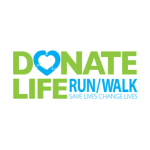 National Donor Sabbath
November 9-11, 2018
National Donor Sabbath is observed annually on the two weekends before Thanksgiving, from Friday through Sunday. During this observance, faith leaders from many religions, donor families and transplant recipients participate in services and programs to educate the public about the need for the lifesaving and healing gifts and to encourage people to join the registry. We invite you to participate in your community. Contact us to schedule a speaker or receive more information.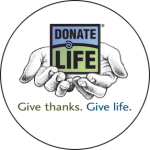 Giving Tuesday
November 29, 2018
#GivingTuesday is that day after Black Friday and Cyber Monday to remind us the holiday season isn't just about scoring the best deals, it's about helping our neighbors and communities via a global day dedicated to giving back. You've most likely already taken the step to give the gift of life by registering to be an organ, eye and tissue donor. But 60% of Californians have not. Your contribution on #GivingTuesday will help more people say "YES!" Details to come.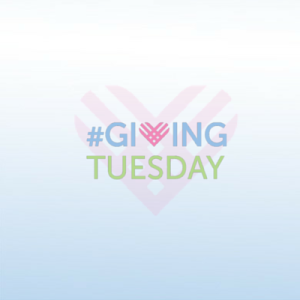 Donate Life Rose Parade Float
January 1, 2019
On New Year's Day, the world focuses its attention on the Rose Parade – a festival of flowers, music and beauty unequaled anywhere in the world. Each year, individuals, families, hospitals and organizations touched by donation and transplantation dedicate more than 1,000 roses to be placed in the Rose Dedication Garden on the Donate Life Float. Read about the Donate Life float.